Wi-Fi has become an integral part of everyone's lives since connectivity has become extremely vital. Whether it is for work or for social media, internet connectivity through wireless networks must be there as a bare necessity. Every household has at least one router that gives out wireless connections for all devices but that alone seemed to pose quite a lot of issues starting from network stability to the reach of Wi-Fi signals. This old wireless internet system has been upgraded to mesh wifi which offers a much better service than its predecessor. Here you will find out in detail exactly how we can use mesh wifi to bring you the best internet experience for work or home.
Explaining Mesh Wi-Fi
Mesh Wi-Fi is the upgraded form of the previous wireless connection. It offers an overall solution for wireless internet connectivity that not only provides a stable network connection but it also solves the issue of the reach of Wi-Fi signals all throughout the building.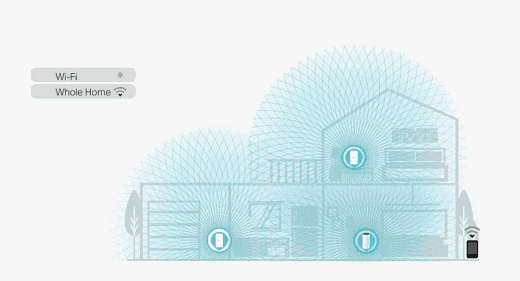 Mesh Wi-Fi uses special range extenders that make sure every corner of the house gets the strongest signal possible. It is placed at strategic locations which our experts will assess after proper inspection of your house or building.  With this upgraded technology, we aim to provide the highest quality of internet service possible for those living around Gulshan, Banani, Mohakhali and Maghbazar. We leave no stone unturned in our efforts to get you uninterrupted internet connectivity and using Mesh Wi-Fi we can achieve that goal. The devices we provide for you are among the best and you can rest assured that we only supply original products.
If you are still new to the concept of Mesh Wi-Fi, allow us to show you some advantages of mesh Wi-Fi that traditional Wi-Fi devices do not have.
Why We Are Suggest To Use Mesh Wi-Fi Solutions
Mesh W-Fi ranks as the best solution for wireless connectivity for workplaces and residences for many reasons.
Extended Range
The range on Mesh-Wi-Fi is much higher than traditional wireless devices as it uses range extenders to cover a large area with a strong signal in every corner. These devices are specially designed to be able to provide incoming and outgoing connections with lightning-fast speeds that provide users with stability and close to no additional latency.
Cost Efficient
Mesh Wi-Fi costs more in comparison to traditional Wi-Fi devices but the range it covers makes up for any additional costs that a user might need in order to purchase additional Wi-Fi routers to cover the same area. The overall strength of the signal does not diminish unlike the traditional Wi-Fi router. It has become a standard ever since its introduction and a necessity for offices which need strong and constant wireless connectivity.
Higher Speeds over Wireless
With the strong wireless connections, it does not diminish the speed and latency of the entire network as traditional Wi-Fi devices have a tendency to cause jitter and lower speeds if the distance between device and router increases.
Less Clutter More Control
Mesh Wi-Fi allows its users to have a very simplified wireless network under one SSID as it eliminates the need for additional networks to maintain range. With this, work places can have just one network which reduces the clutter substantially and allows for a better span of control over the entire network with simple administrative controls.
Solution
We offer full fledged solutions for the entire mesh Wi-Fi system that we set up for all our customers. This includes overall installation and guidance for any issues that our customers might face. Besides providing excellent uninterrupted internet, Mesh Wi-Fi itself is a solution for everyday Wi-Fi related problems with its constant signal strength and improved data transfer speeds. Mesh Wi-Fi also provides a solution for device incompatibility issues which are prevalent for usual everyday routers.
LTE method
LTE or Long Term Evolution method is something we all have heard before. It is the signal used by 4G for ultra fast connections. This is the same technology in use for our Mesh Wi-Fi which offers its users the fastest speeds possible across multiple connections. This enables an office infrastructure to function with stability as no devices will be left with weaker connections. Moreover, with the use of LTE, the latency will decrease substantially paving the way for ultra fast and uninterrupted internet connectivity.
Wi-Fi 6
Wi-Fi is in constant evolution with the updated use of Wi-Fi 6 which is the technology behind Mesh Wi-Fi. This allows its users to use Wi-Fi using signal strengths that support more devices and its speeds exceed 9.6 Gbps which is 250% faster than the usual Wi-Fi router. This enables much faster transfer speeds and a much lower latency across all connections.
Guaranteed Continuous Service
Equipped with the latest in Mesh Wi-Fi technology, Elite Communication offers its users the best experience of using the internet which allows faster speeds and lower latency. We guarantee our claim for all our users all across Gulshan, Banani and Moghbazar. If our internet connection is not up to the mark, we constantly ask our customers for feedback so we can always find ways to improve our services
Maintained and Managed Internet Connectivity
Elite Communications provides the very best internet experience and we ensure that by constantly monitoring our network connections all throughout the day so we can maintain stable network connections at all times. To make this work, we employ a team of experts who are tasked with monitoring and maintaining connections so if there is even a slight disturbance, they can tend to it immediately.
Excellent Support
Elite Communications offers uninterrupted and problem solving internet connection and it is maintained by a network of support personnel spread all around in different key areas who work in unison to make sure internet connection is always stable at all times. If there are any issues faced by our customers, they are welcome to call our support team at any time for resolution.
Final Word
---
Mesh Wi-Fi is the latest development in wireless technology and It provides solution for many of the wireless issues that are currently bothering the users. It offers a much faster connection all over the building and reduces latency substantially. It is the best solution for large homes and workplaces as they can all be under one unified network. Call us today to book an appointment with Elite Communications.